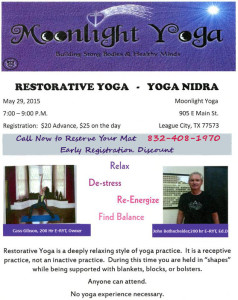 Many have told me that when they are in savasana at the end of my classes at Moonlight Yoga  just when they feel truly relaxed, I tell everyone to bring themselves to the front of the mat.  Ever wondered what a longer, deeper period of relaxation like that would feel like? What it might do for your stress levels and your health in general?
This is when Yoga Nidra needs to be brought to your practice.
Yoga Nidra is a powerful meditation technique practiced in the lying position, it is one of the most popular yoga meditation techniques because it induces a profoundly deep state of rest.  It is effortless, enjoyable and soothing.
Today many of us find that sleep is not completely restful. Some of us are unable to resolve tensions, anxiety or distractions and are unaware of how much tension they are holding on to and in turn carry these tensions to bed.  This can become a terrible cycle, over time these tensions and stresses go deep into the mind body and can move on to become physical and psychological illnesses. Chronic sleep deprivation has been shown to greatly increase the risk of chronic degenerative illnesses, such as heart disease, diabetes, depression and obesity, and of premature death.
More than 30% of the population suffers from insomnia and approximately 30 million people in the U.S. (10% of the population) use prescription sleeping medication
In today's world of fast paced over booked schedules many people try to sleep with their mind still switched on.  Learning how to turn off excessive thinking and worry is the key to getting deep restful sleep. One of the easiest ways to do this is by practicing Yoga Nidra. Yoga Nidra is a practice that enables you to gain deep rest so your body and mind can recharge and rejuvenate.  Although it does not replace normal sleep, 30 minutes of Yoga Nidra is said to be equivalent to 3 to 4 hours of sleep and by removing deep-seated tensions and anxiety will help you achieve a deep restful sleep when you go to bed. 
If you are interested in such a lesson Moonlight Yoga will be hosting John Bethschider E-RYT, Ed.D on Friday May 29th from 7-9pm in our studio at 905 E. Main St League City TX. 77537. 
Call Now to reserve your mat space is limited 832-408-1970.
Related Images: